Article Options
Mark as New

Mark as Read

Bookmark

Subscribe

Email to a Friend

Day 3 - Mobile World Congress - 2011
by
Peter_vdL

02-16-2011
04:50 PM
- edited
02-16-2011
04:50 PM
Here are some thoughts and observations from Day 3 of Mobile World Congress 2011.

Yesterday, I described the Motorola stand at MoWoCo. But I'm spending much of my time over at the Google stand, where they have space set aside for Motorola and other hardware partners. My official mission is to be a technical ambassador, to talk with as many developers as possible, and to give visitors hands-on experience with Honeycomb (Android 3.0) running on a Motorola XOOM tablet.

Mission: have fun
Unofficially, however, the Google stand manager confided to me that the real mission is to let visitors have some fun. I've got to admit - the Google stand is well equipped for that. Here's a picture of the Motorola partner stand (in the left middle background) within the Google booth.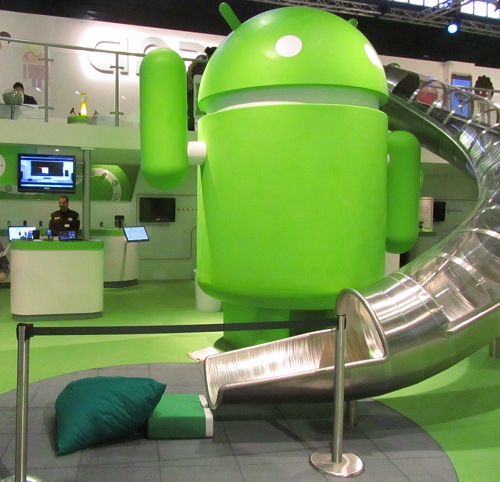 You can't help noticing the giant two-story android, with the play slide curving around it. All day long, intrepid visitors go up to the second floor, and make a rapid descent down the slide. As they come off the end of the slide, a camera automatically takes their picture. Sliders can collect the keepsake image from a nearby booth. Maybe I don't get out enough, but this is the first trade show I have attended that offered a ride down a chute.

A Smooth Operator
Another popular attraction at the Google booth is the fruit smoothie bar. All day long, complimentary fruit smoothies are served in four different flavors: cupcake, eclair, honeycomb, and Pasta e Fasule. I may be mistaken about that last flavor, but I've tried them all, and that's what it tasted like to me.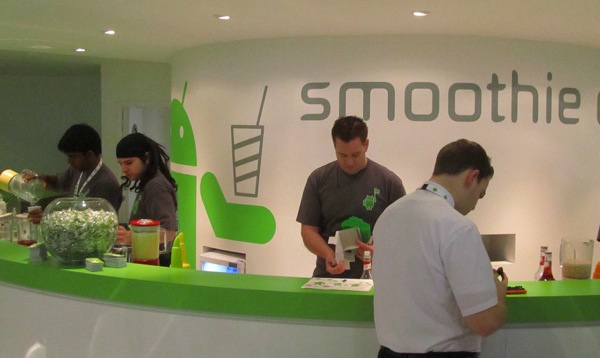 Androidify Yourself - it's later than you think
Just when you think the fun can't get any funkier, you discover the Androidify app, created specially for MoWoCo. This app lets you choose from thousands of styles of hair, body shape, clothing etc, to create your own avatar in Android form.
Let me finish by inviting you to come and talk with me at the Motorola stand in the Google booth, tomorrow. I'll be easy to find. I'm the one who looks just like this (on a Motorola ATRIX and a Motorola XOOM tablet).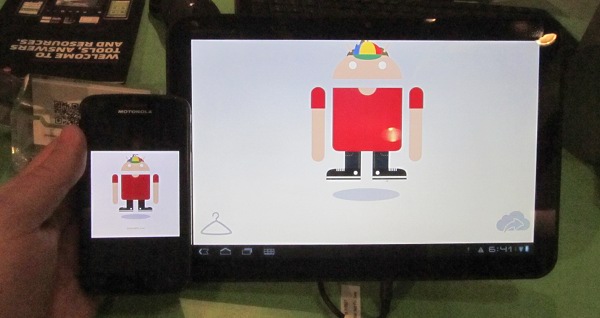 Cheers,
Peter van der Linden

Android Technology Evangelist, and your man on the stand at Mobile World Congress.