Article Options
Mark as New

Mark as Read

Bookmark

Subscribe

Email to a Friend
Day 2 - Mobile World Congress - 2011
by
Peter_vdL

02-16-2011
09:05 AM
- edited
02-16-2011
09:13 AM
Here are some thoughts and observations on Day 2 of Mobile World Congress. The Motorola stand is the first stand you see, in the first exhibition hall on the right, as you go in the only entrance to Mobile World Congress. As a result, we have many visitors who are full of energy, and keen to see and try the latest products. Here's what the Motorola stand looks like.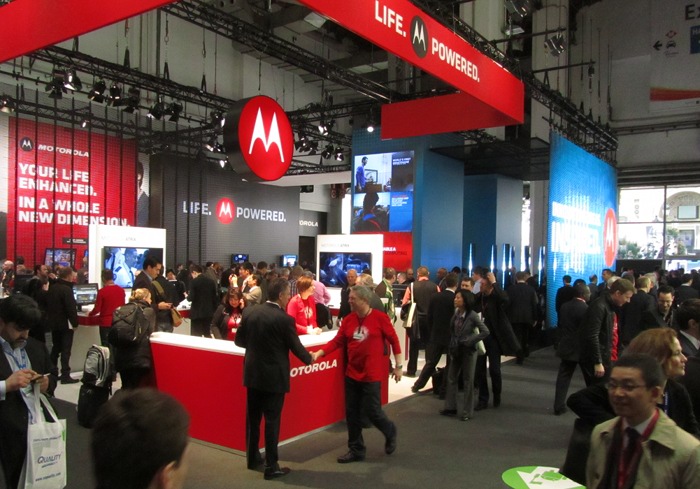 On the far right of the picture is the glass fronted doorway into hall 8. Immediately next to that, our stand has a 20 foot high LED array, displaying video. If you're like me, you immediately inspect that LED grid, and wonder how they can possibly make it work without a powerful computer switching each pixel behind the scenes. I hope I'm not giving any trade secrets away, but it turns out that there's a powerful computer switching each pixel, behind the scenes.
Moving further into the Motorola booth, there are individual stations ("pods" in exhibition jargon) dedicated to each of the new products. Walk around different pods to get a hands-on demo of the Atrix handset with the lapdock, or the Xoom tablet, or any of the Motorola products and developer support programs.
As well as exhibition stands, Mobile World Congress offers a program of keynote speeches from industry leaders. Around noon, Eric Schmidt, executive chairman of Google, delivered a keynote presentation outlining his thoughts and analysis of the mobile industry. Among other thought-provoking insights, Eric pointed out that:
there are now more than 150K apps in the Android app store. The number expanded three-fold in the last 9 months.
developers recognize how quickly the mobile sector is growing, and now develop apps for that sector ahead of other platforms.
with the rollout of 4G technologies, data speeds to handsets will increase dramatically (8-10 Mbps sustained), enabling a wave of new apps that we have not yet imagined.
Eric then brought a Google team member on stage to give a stunning demonstration. We saw the latest Google app, Movie Studio, running on a Motorola Xoom tablet. Movie Studio turns your Xoom into a video editing platform! As well as all the usual non-linear video editing features that you expect on a workstation (titles, transitions, effects, clip rearrangement, audio, and so on), Movie Studio on the Xoom supports rendering your movie in full HD on the tablet, and then exporting it to YouTube. I was all set to order the Xoom to run the Google Maps app. Now Eric has given me an even more powerful second reason to get a Xoom tablet!
No doubt about it, Mobile World Congress 2011 is full of wonders. I "wonder" what day 3 will bring? Visit this blog tomorrow to find out!
Peter van der Linden
Android Technology Evangelist