Article Options
Mark as New

Mark as Read

Bookmark

Subscribe

Email to a Friend

Judging the MOFILM Competition
by
Peter_vdL

02-04-2011
02:19 PM
- edited
02-05-2011
01:44 PM
Writer and comedian Peter Cook once lamented, "I could have been a Judge, but I never had the Latin for judgin'". (If you haven't heard of Peter Cook, he was described by Stephen Fry as "the funniest man who ever drew breath.")
With me, it's the other way around. I never had Cook's desire to be a judge, but I was force-fed plenty of Latin in school. Maybe that's why I was recently tapped to help judge the MOFILM Barcelona Film Competition 2011. I had the Latin for the judgin'. But I'm getting a bit ahead of things.
The Barcelona Film Competition 2011
MOFILM is a privately-funded company which brings together filmmakers and leading companies. MOFILM organizes film festivals and competitions; filmmakers from around the world submit their best work; forward-thinking companies provide judges and prizes. Motorola and Adobe are sponsoring the MOFILM Barcelona Film Competition 2011, and presenting awards at a gala dinner during Mobile World Congress in Barcelona on February 14. It's a great privilege to be one of the Motorola judges for this event, and I'd like to give you a peek behind the scenes.

To keep things manageable for the filmmakers, many of whom are studying at film schools, entries are in the form of a short film, or an ad. Each entry runs no longer than a minute or so. This year, more than fifteen hundred filmmakers downloaded the competition brief. All the entries were carefully viewed by multiple judges over several days, to produce a shortlist in the categories sponsored by Motorola and Adobe. As judges, we were looking for the filmmakers' interpretations. How did they represent abstract qualities like innovation, and empowerment, along with access to the full web, on the go? It is no simple task to represent these values in images.
For example, consider this picture of a flower.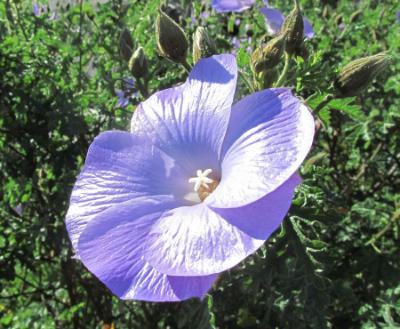 That flower is native only to one corner of a remote Asian country. But here it is, growing wild by the side of a large airbase. A botany professor recognizes the flower, and realizes the seeds must have been carried in by frequent secret flights from that region. She decides to find out more about these flights. In a different story, the vine was planted to commemorate a dog that raised the alarm in a fire. Six people escaped with their lives from the burning building. But the courageous animal, barking to draw firefighters to a sleeping infant, died of smoke inhalation. The job of the filmmaker is to create art by extending narrative (like those examples) with memorable images. When others view the art, it should evoke passion and feelings.
Everyone values originality and creativity
Whenever one person offers judgment on another's art, there is a large subjective element to the results. Pick a different judge, get a different result. But it's also true that judges have some values in common. As I judge, I look for originality and creativity, along with the abstract qualities mentioned above. Humor can be a powerful element. But if you use humor, it must move the story forward and not be the story. The same goes for computer graphics, and special effects of all kinds. I was struck by the high quality of the entries, and wide range of ways that different filmmakers found to tell a story.
Everyone is looking forward to the awards ceremony on February 14 (the first day of Mobile World Congress), to hear who the winners are. All the entries had aspects to commend them. I think the winning filmmakers showed real talent, and fully deserve the recognition and prizes this competition brings. The entries will be posted on the MOFILM website soon after the awards. Take a look after February 14, 2011, and see if you agree with our film winner choices. And if you don't agree, blame it on my early diet of Latin.
Cheers,
Peter
Android Technology Evangelist