Article Options
Mark as New

Mark as Read

Bookmark

Subscribe

Email to a Friend

MoFilm Awards - Mobile World Congress - 2011
by
Peter_vdL

03-02-2011
01:37 PM
- edited
03-02-2011
02:00 PM
The Story So Far
An earlier blog post described the MOFILM Barcelona Film Competition 2011, sponsored by Motorola and Adobe. This blog post brings you news of the winners, announced at a gala dinner during Mobile World Congress a few days ago.
Motorola and Adobe co-sponsored one of the categories in the Film Competition. Film makers were invited to submit their work in the form of an ad (of less than one minute's duration, to simplify matters for entrants).
And the Winner is ...

A couple of hundred people were invited to the awards ceremony, which was hosted by British TV celebrity Jonathan Ross. Jonathan introduced each winning ad, as it was projected onto a big screen. Here is the large screen announcing the winning film in the "Adobe and Motorola ad" category.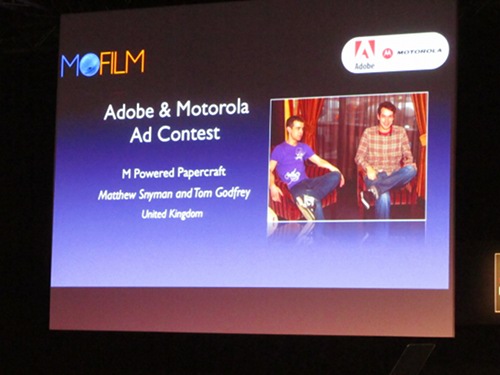 The winning film-makers in this category were Matthew Snyman and Tom Godfrey. You can see their "M powered Papercraft" entry, as well as winners in other categories on this webpage. There was a second category, for short films, and the winner there was Pete Herron. You can see Pete's film on the same webpage.
Awards and Dinner
After the audience viewed each winning film, the filmmakers were presented with their award by executives from the sponsoring companies. Here (left to right) are JP Le Cannellier, VP Americas Marketing from Motorola and Ricky Liversidge, VP of Marketing, Solutions & Partner Marketing from Adobe, presenting the award to winners Matthew and Tom.

In their own words
After the awards dinner (delicious Catalonian cuisine), I spoke with Matt and Tom about their film. I'm going to assume that you've visited the webpage above, and seen the video. In other words: spoiler alert!
Matthew works with all kinds of film subjects, live actors and so on. He chose paper craft and puppetry for this film to make it stand out from other entrants, who (he reasoned) might emphasize technology to match the sponsors. "I took a risk and went as handmade as possible!" Matthew commented.

A lot of viewers wonder "what's going on with the kangaroo!?" Tom, as the songwriter, took that question. He explained "Sometimes when I'm writing lyrics I'll use a word that has no relevance, but that fits with the rhythm and the rhyme of the sentence, so that i can carry on writing and come back to change it later. The kangaroo was one of these - Matt saw it in my draft lyrics and was instantly set on the idea, i did the voice and voilà we had our 'roo!"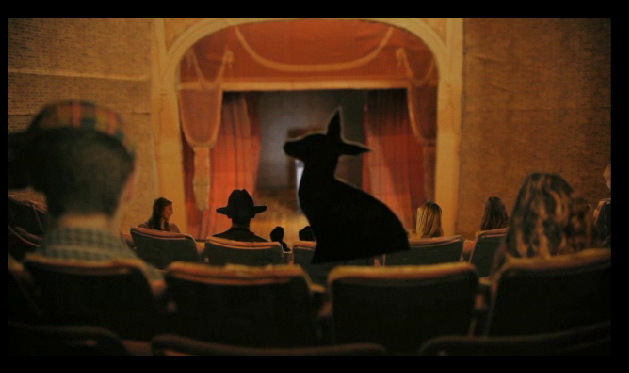 Stub Programming
Who would have thought it? Stub programming is a technique used by prize-winning filmmakers, as well as software engineers!
More from the film-makers
You can see more of the creative output of these two film-makers at the links below:
Cheers,
Peter van der Linden
Android Technology Evangelist