Article Options
Mark as New

Mark as Read

Bookmark

Subscribe

Email to a Friend

Korea App Summit -- Retrospective
by
Peter_vdL

06-16-2011
04:46 PM
- edited
06-19-2011
10:16 PM
My third trip to Korea, and I'm going to miss the Boryeong Mud Festival again! Devastated! This is an annual festival which takes place during July in Boryeong, a sleepy little town around 200 km south of Seoul, South Korea. The first Mud Festival was held in 1998 and, a decade later, the festival was bringing 2.2 million visitors annually to Boryeong. There are three main activies at the mud festival - chilling out, wallowing in mud, and drinking beer. I already do pretty well at one of these (no, smarty-pants - it's the chilling out), and I'm willing to put in the effort to master the other two. But honestly, there is a lot of mud in Boryeong, not much beach, and the Festival probably makes a virtue of necessity.
So we're not in Boryeong, but the MOTODEV team came to Seoul, South Korea, to present the ninth, and last App Summit of our 2011 World Tour. This global tour helps developers get up to speed creating apps for the XOOM tablet and ATRIX smartphone. As well as sharing tips and techniques with developers, we also listen as developers describe their apps to us. We offer suggestions and feedback to fine tune and promote the app.
I would love to hear the views and perceptions from any developers who attended this summit - please add your comments below.
Everyone anticipated that the South Korean App Summit would be really popular, and it was. There were more than 400 developers attending. South Korea is the world leader for internet speed and connectedness, and generally has great support for leading edge technology. According to the Internet monitoring firm Akamai, typical downloading speeds are four times faster in South Korea than in the USA. But it all evens out (not really), because compared with Korea, we pay about 50% more in the USA for that much slower service.
Some of the MOTODEV team hired a tour guide and car to look round Seoul. Here's the view through the car windshield. The GPS unit in the center of the screen not only shows roads - it has clickable pictures of the street scene and buildings. Clicking on a building will give parking advice. I haven't seen a GPS system this well integrated anywhere else outside South Korea.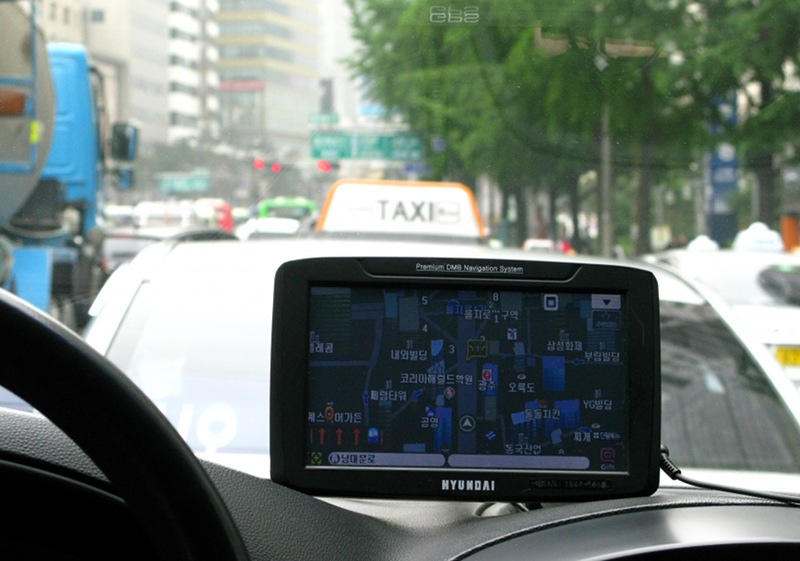 The GPS system also displays buildings and street views, updated in real time as the car travels.
I talked the MOTODEV team into making a special visit to the statue of King Sejong the Great, located near the Gyeongbokgong Palace. King Sejong was famous and much loved for popularizing the Hangul written language, which was simpler than the Chinese alternative, and easier for ordinary people to learn. Though he lived more than 500 years ago, Sejong the Great was a friend of technology. He invented the paper calendar, a new type of rain gauge, and a portable egg cup - all of which helped farmers. For his far sighted wisdom and actions, King Sejong is held in high esteem by Koreans and many others today.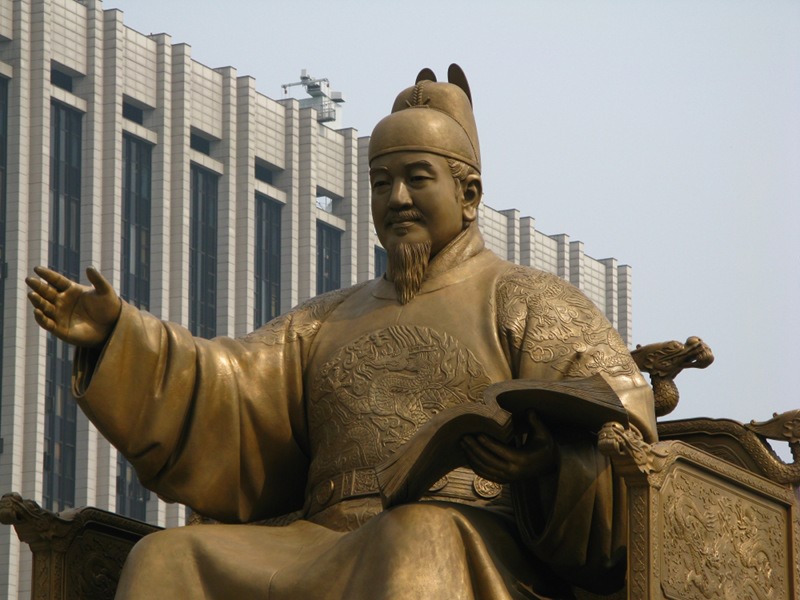 King Sejong the Great was a supporter of new techology.
Example sentence in Korean: 한글로 작성된 언어는 중국의 대안보다 쉽습니다.
Same sentence in Chinese: 在朝鮮文字的書面語言是比中國更簡單的替代方案。
These sentences don't show the great simplification of Hangul. Unlike the thousands of Chinese ideograms, Hangul only has 24 letters (14 consonants and 10 vowels). They are written in pronounceable groups containing at least one vowel and at least one consonant. You can see the individual letters of Korean in this article. There! Don't say this blog's not educational, now you've learned to read Korean.
The MOTODEV team also visited the Jogye-sa temple, shown below.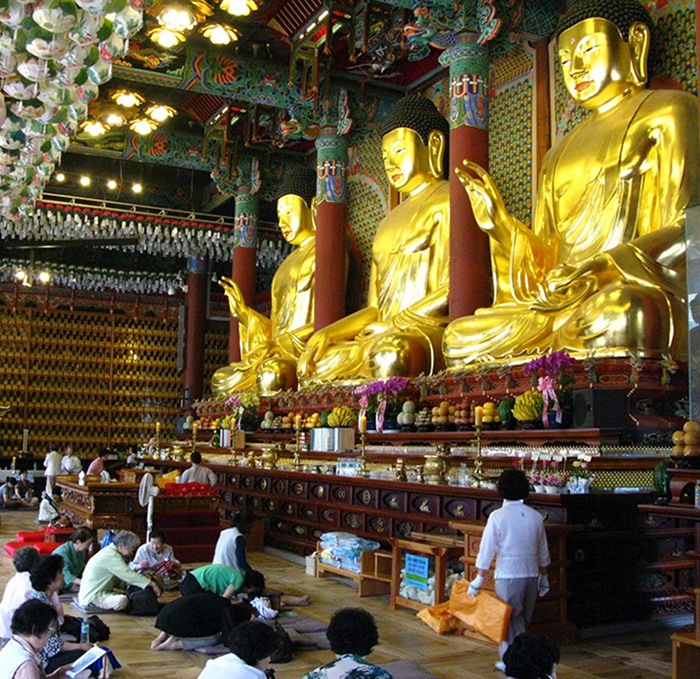 Interior of the Jogye-sa Zen temple
Famous for its three giant gilded Bhuddas, the Jogye-sa temple is the headquarters of the sect that emphasizes Zen meditation. I noticed that two of the Bhuddas are giving a similar "palm forward" arm wave as King Sejong the Great, and I asked one of the chief monks about this. He didn't "enlighten" me. Well, there's always the hope of getting to the Mud Festival on my next trip.
Peter van der Linden
MOTODEV Android Technology Evangelist