Article Options
Mark as New

Mark as Read

Bookmark

Subscribe

Email to a Friend

A superb hat-trick!
by
Peter_vdL

03-25-2011
10:34 AM
- edited
03-28-2011
08:59 AM
Sometimes, things come in threes. It's just a fact. There were Three Stooges (I know, I know, what about Curly Joe? He's canceled out by Shemp being on the team twice). There were three blind mice. And Captain James T. Kirk has three ears - his left ear, his right ear, and his "final front ear".
I was musing on this last Saturday night, as I swam across the parking lot (it was a little rainy) to attend the local San Jose Sharks vs. St Louis Blues hockey game. I'm not much of a one for sports, but the Sharks have been on a streak lately, and I had a hunch this would be a good game, with a lot of scoring. Little did I know we'd see a hat-trick! But I'm getting ahead of myself.
I'd spent a few hours earlier, looking for the last three bugs in my Android app. It's a real timesaver to assume that every program contains three bugs that you haven't found yet. It keeps you hitting "save" frequently. When you stumble across one of the unfound bugs, you can get right on with resolving it, instead of spending time rebuilding hours of unsaved data. Like many Android developers, I use Eclipse with the MOTODEV Studio plugin to develop my code. As the name suggests, the Eclipse IDE comes from the Eclipse Foundation.
The Eclipse Foundation is a non-profit organization, supported by forward-looking member companies, and charged with hosting the various Eclipse-related open source projects, and growing the community. Motorola has been a member of the Eclipse Foundation since 2006. We originally joined to cooperate on tools for Mobile Linux development. Today, Eclipse is a key component in Android software development. At Motorola, we like Eclipse for Android so much that we refined and improved it, to create MOTODEV Studio for Android (available for free download here). More about that later - back to the hockey game.
The home team Sharks established dominance early in the game, and went on to a 5 - 3 victory over the visiting St Louis Blues. The high point of the match was a hat-trick (three goals scored by one player) from Joe Pavelski.
The hockey rulebook frowns on anything thrown onto the ice from the audience, but an exception is made for hats after a hat-trick is scored. The crowd is officially permitted to go bananas, and they flung their headgear with gusto. Rink staffers were literally shoveling the hats up, and wheeling them away in laundry carts! The crowd loves to participate in a good hat-trick.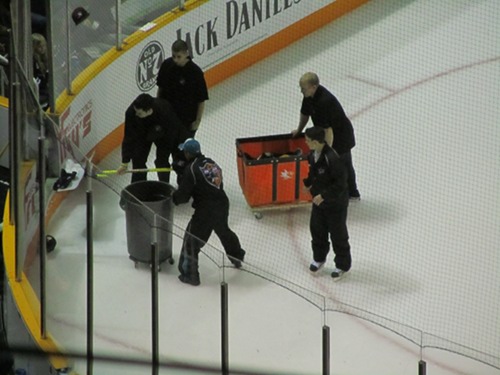 Shoveling hats from the ice into a laundry cart
Unfortunately for Joe, his third goal was later given back to team mate Patrick Marleau, to whom it had been originally attributed. Thus, Joe got 40% of the Sharks' goals that night, not 60%. Which is still pretty darn good.
Real hat tricks are somewhat rare. I'd like to close this blog post by proudly pointing to a recent Motorola hat-trick of awards:
and now, this week, we are delighted to learn that
MOTODEV Studio for Android just won Best Mobile Tool at EclipseCon - the annual convention of Eclipse developers.
There will be more about that later. But now I have to go throw my hat on the ice to celebrate the achievement of MOTODEV Studio for Android.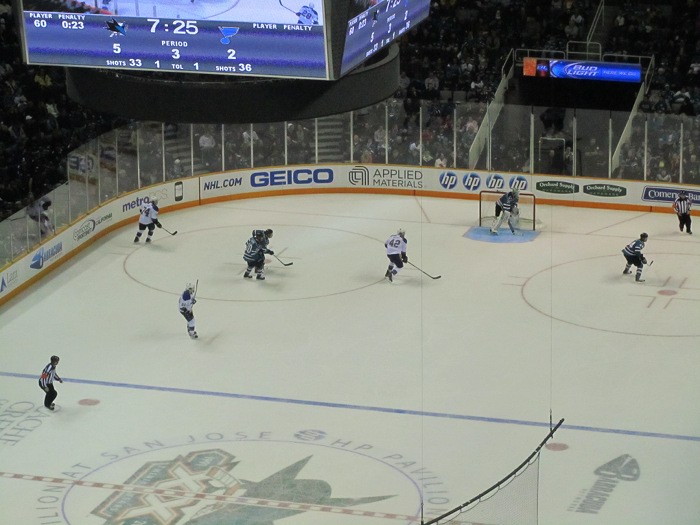 It's a fast game, and not for the faint of heart, in mobile software development
Please mark your calendars for a webinar on "Developing apps for the Motorola ATRIX 4G" . I'll be co-presenting this free webinar on March 29 2011, with my colleague Greg Wilson. Let me know with a follow-up comment, if there's anything special you'd like us to explain about the Motorola ATRIX 4G. Cheers,
Peter van der Linden
Android Technology Evangelist