Article Options
Mark as New

Mark as Read

Bookmark

Subscribe

Email to a Friend

Calling all app developers - your chance to break through!
by
Peter_vdL

07-27-2011
10:33 AM
- edited
07-27-2011
08:33 PM
The great Victorian railway engineer I. K. Brunel was firmly against the idea of prizes to encourage new ideas and designs. Brunel was one of the greatest railway engineers of all time, numbering among his achievements the design and construction of the Great Western Railway, stretching over a quarter of a century from 1832. Brunel argued strenuously against cash prizes in design competitions, and he clashed with other eminent engineers and architects who favored this kind of incentive.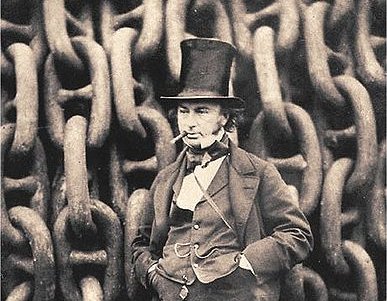 Great Western Railway chief engineer, cigar enthusiast, and prize money hater,
Isambard Kingdom Brunel in 1857
While Brunel was always definitive, he wasn't always right. His opposition to sponsored design competitions was an ill-considered viewpoint. Perhaps it was based on the unpopularity of some of his eccentric design choices (like the Balmoral Bridge which pioneered the use of rivetted wrought iron girders). As time went by, competitions and prizes became increasingly popular with the rest of the world. The first crossing of the English Channel by airplane was achieved in 1909 in response to a challenge sponsored by a tabloid newspaper. Charles "Lucky" Lindbergh made the first solo transatlantic flight in 1927, to win the Orteig Prize.
Box Mobile Dev Challenge
Sponsored competitions continue to play an important role in advancing the state of the art. And that's why I was so pleased to hear about the enterprise mobile software challenge that Box is sponsoring. Box is a very successful Silicon Valley start-up that offers a content management platform for cloud data. You can read the full details of the Box Mobile Dev Challenge here, and the key points are:
the challenge is looking for enterprise-grade apps that are useful to a mobile workforce
apps should be innovative and generally useful, although limits to a single market segment (e.g. retailers, or lawyers) are fine
apps should be well integrated with the Box platform - more than just file up/down load. Think about tags, comments, contacts and search features.
you register now, and submit a demo of your app by September 9, 2011.
While Box is looking for submissions to be as fully completed as possible, your entry will include a video in which you showcase your enterprise app idea. Using video submission, you can walk through what you've built, as well as demo features you intend to include. This way, the best ideas can be judged on their merits, and programmers aren't limited by the amount of code they can crank out in the next two months.
Prizes!
The Box Mobile Dev Challenge has some mouth-watering prizes, including
$35,000 in cash
pitch meetings with a top Venture Capital firm
hardware tablet prizes
Entries will be evaluated by a blue ribbon panel of judges from industry, finance, and Box itself. This is a terrific opportunity for every Android developer with an enterprise idea. Check it out, and good luck!
Brunel thinks outside the Box

In 1836, Brunel started construction work on Box Tunnel, which runs for two miles under the Bath hills. It's widely believed that Brunel deliberately aligned Box tunnel so that, at sunrise every April 9 (Brunel's birthday), the sun shines right through the tunnel from portal to portal. A Victorian "Manhattanhenge". This was not the first act of whimsy by the gruff railwayman. He also hatched a plan to convert the Cherhill White Horse to the outline of a steam locomotive. Sadly, that idea was never put into effect. Maybe Brunel should have advanced it in the form of a competition.
Peter van der Linden
Android Technology Evangelist