Article Options
Mark as New

Mark as Read

Bookmark

Subscribe

Email to a Friend

CITE in the City
by
Peter_vdL

03-16-2012
12:40 PM
- edited
03-16-2012
01:22 PM
I'd been asked to speak to a breakout session at the CITE (Consumerization of IT Event) conference, and I was joined on stage by Jason Ruger (Chief Security Officer at Motorola) and Clarence So (a senior vice president at Salesforce.com).

We had structured this presentation as a conversation between Clarence, Jason, and I. Jason acted as the moderator, and questioned Clarence about typical roadblocks that enterprises can encounter as they mobilize. My role was to suggest approaches and ideas for resolving these issues. I was tingling with anticipation about Clarence's questions.

Clarence's first question was right where enterprises start when they go mobile - how do you provide secure and private access behind the company firewall from a mobile device? Fortunately, this is a solved problem. Most enterprises use a VPN - Virtual Private Network. This can come in the form of software or hardware or both. It is often packaged as an appliance solution. Someone in the audience asked about other techniques, like a reverse proxy. A reverse proxy supports the same authentication and encryption that a VPN does, but it doesn't do packet routing. Some people find it a convenient alternative for accessing web resources on the intranet. It's the reverse of a normal proxy that connects nearby clients to the distant internet. The reverse proxy connects distant clients to the resources on a nearby intranet.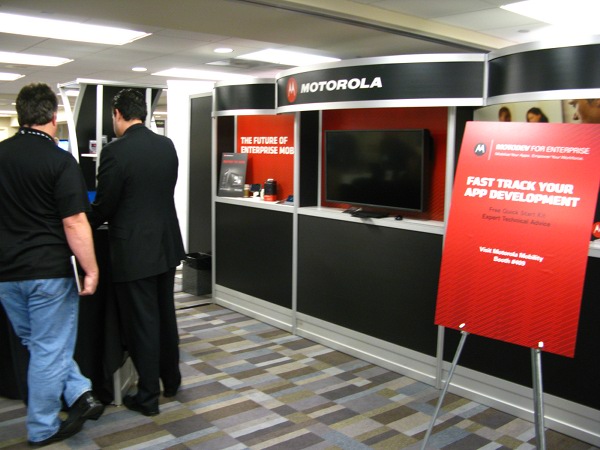 The Motorola Mobility booth at the CITE Conference

The next issue that Clarence raised was one that reflected well on his company, Salesforce.com. Salesforce's best known product is its Customer Relationship Management software which organizes and makes information readily available online. Clarence pointed out that IT groups often have problems integrating mobile devices with existing older systems.

The issue here is two-fold. If the data is not kept in a database or some other form of structured storage like a data warehouse, then you may no longer have current documentation describing the data format and semantics. The original developers will long since have moved on to other projects. The system continues to do its job reliably, but opening it up to fresh development is problematic. The second part of the issue is that there won't generally be any APIs to access data in legacy silos. Clarence pointed out that his customer base won't encounter this issue, as the Salesforce products provide a rich data access experience. Some customers use Salesforce to wrap their data for exactly this purpose. If you don't have data access APIs, you'll need to budget for creating them as the first step in mobilization.

We ran through several more issues, and then our speaking session was over. Jason and Clarence did their usual terrific job, and thankfully I had good answers for everything. I went downstairs to the exhibition hall where we had a booth. For the next couple of hours, I hung out, and talked with anyone who wanted to discuss mobilization of the enterprise.

I really enjoy the shows where I can hear the concerns of developers first hand, and work with them to brainstorm possible approaches to resolution. It's a bit like Forest Gump's box of chocolates - you never know what you'll get next. If you're going to a mobile device conference soon, look for me in the Motorola booth, and let me hear about any enterprise mobility issues you have - I'm a good listener.

Peter van der Linden
Android Technology Evangelist