Article Options
Mark as New

Mark as Read

Bookmark

Subscribe

Email to a Friend

Live from the floor of AnDevCon II
by
Peter_vdL

11-08-2011
08:24 PM
- edited
11-09-2011
10:55 AM
The MOTODEV team is at the AnDevCon II conference Sunday to Wednesday this week (Nov 6-9, 2011). AnDevCon II (Android Developer Conference II) follows on the heels of the first AnDevCon, held all the way back in March. I really enjoyed the first AnDevCon. AnDevCon II seems about twice as popular and twice as successful.
One of the problems I wrestled with three years ago was device power management. I was Director of Software Engineering for a different employer, and we just could not get device battery life where we needed it to be. It was too late to change the hardware, so by definition it was a "software problem" ;-( (Yeah, how does that work?) We lacked good tools for introspecting on power management. And that's why I enjoyed the talk by Moe Tanabian so much (twitter: @MoTanabian). Moe's talk was titled "Save the Battery! App Design and Testing for Better Power Consumption". It covered all aspects of addressing device power consumption, from measurement to remediation.
Here's a slide showing the kind of organized, consistent, thorough approach that Moe advocated: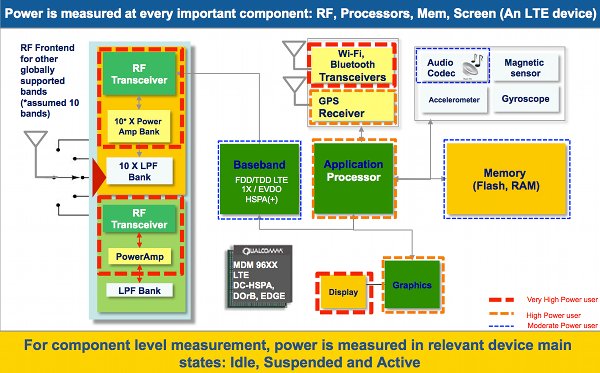 I certainly wish I had heard Moe share his wisdom several years ago, when my job was to work all this out in realtime, with hard deadlines looming over us!
Another talk that I really enjoyed was the "Deep Dive into Android Security" given this morning, by San Francisco-based Aleksander (Sasa, pronounced Sasha) Gargenta. Sasha laid out Android security issues, pitfalls, and solutions with a clear narrative, and superbly-illustrated slides like this one: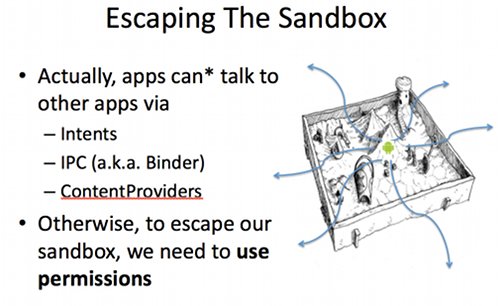 Sasa's security talk started at 8:30am, and it was standing room only. This was one of the best Android talks I have ever attended. You can see all of Sasa's slides here. Sasa is the technology brains at Marakana, and he also runs the San Francisco Java, Android, and HTML5 User Groups, and provides consulting and training. AnDevCon is 100% focused on development topics for Android developers and software engineers. There aren't many other venues where you can get technical information like this, from giants in our industry.
More great talks tomorrow!
There are three more talks on Wednesday that I'd like to tell you about.
Wednesday Nov 9, 8:30am in ballroom G, "Android, Enterprise and Mobility" I'm giving this talk, and among other topics, I will share an anecdote about how an error in decryption caused a US Navy admiral's hat to fly off! Hope you can make it!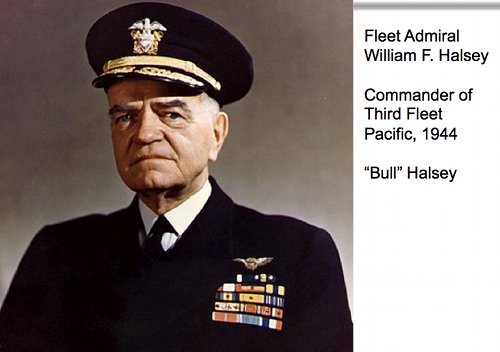 Then on Wednesday Nov 9, 11:30am, also in ballroom G, Suzanne Alexandra will present "Beautiful Usability, Multiple Screens Too".
The last session of the day is at 3:30pm, in ballroom E and F. Anna Schaller will present "Practical Android Tips and Lessons from the Trenches".
I understand that each of the three MOTODEV speakers will ask a trivia question, and there will be a drawing for people who submit correct answers in the last talk. The prize will be some valuable hardware. I hope to see you at all these talks. Please visit the Motorola Booth in the Exhibition Hall, to get the trivia question entry form.
Peter van der Linden
Android Technology Evangelist